Royale Coach Club - 2010 Fall Rally
Portland & Bar Harbor, Maine
MAINE THE WAY LIFE SHOULD BE
September 12 - 18, 2010

This rally is limited to 80 persons due to the size of the event locations. Any additional registrations received will be placed on a "Waiting List". In the event someone registered cancels, we will notify the next person on the list. Feel free to contact us if you have questions.
Rally Masters:
Portland: Jim & Nancy McNulty - Sep 12-15
Bar Harbor: Chris & Kathleen Koch - Sep 15-18


Portland Head Light - Built in 1791 and authorized by President George Washington, it is the oldest lighthouse in Maine. It is also said to be the most photographed in the country. The tower stands at 101 feet above sea level and it's light can be seen 26 miles to seaward on a clear evening. The lighthouse sits within the park land of Fort Williams in Cape Elizabeth, Maine.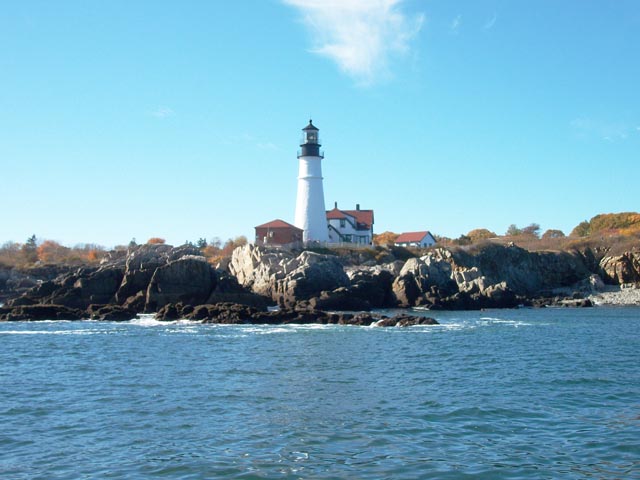 Maine Rally (Part A) – Portland, ME

Sunday, September 12, 2010
Arrive at Bayley's Camping Resort
5-6 PM: Happy Hour
6 PM: Potluck dinner with lobster stew and New England Corn Chowder provided. Please bring an appetizer, salad, side-dish or dessert to share.
Monday, September 13, 2010
Free day: Explore local attractions, such as Kennebunkport, downtown Portland (LL Bean outlet store, "Old Port" shopping district, Portland Museum of Art, Longfellow House). Detailed information will be provided in Welcome packets.
Tuesday, September 14, 2010
8:30 AM: Depart Campground by bus for Windjammer cruise (out of Portland Harbor) to Cow Island (located in Casco Bay) for traditional Maine lobster bake. Upon return to Portland, visit historic Portland Headlight en route back to Campground.
Wednesday, September 15, 2010
Travel day to Bar Harbor ( 3 hours via Maine turnpike [rt.95 north] ) ( 5.5 to 6.0 hours, via "scenic route" 1 up the coast – not recommended on trip "up") to Narrows Too Campground on Rt. 3 in Trenton

Maine Rally (Part B) – Bar Harbor, ME

Wednesday, September 15, 2010
Check in at Narrows Too campground. "4-6 PM "wine*, and cheese and more" Koch's private camp "Camp by the Sea" just 2 miles west on same road as Narrows Too (Rt.3) carpool to party – limited parking (rain or shine). Note: *Wine compliments of the Kochs [NOT @ club expense]. Dinner on your own tonight
Thursday, September 16, 2010
8:30AM Bus departs for Acadia National Park Visitors' center
9AM Arrival @ visitors center, look @ exhibits, visit gift shop, etc. & view orientation movie as Group @ 9:30AM. Exit to buses in parking lot which will leave @ 10AM sharp.
10AM-Narrated Tour by professional guides with multiple stops
12:10 Bus ride to Jackson Labs in Bar Harbor
12:30-1:30 Lunch at Jackson Labs with our group (included).
1:30PM General group presentation and then break into small groups of 6-8 persons for customized tours of facilities [800,000s.f. total!]
3:30PM or so: Prevost bus will bring the entire group back to the Narrows Too campground, supper on your own
Friday, September 17, 2010
9AM Bus leaves for downtown Bar Harbor boat dock for "nature cruise". Warning: Parking tight downtown – allow plenty of time!!
9:30AM Boarding boat
10AM- Noon [Sharp] Enjoy narrated tour of local islands, view wildlife ( Eagles, seals + misc. "critters")
Noon lunch on your own at one of our restaurants. The bus will take its first trip back to the campground [2 PM]. The "Shoppers" will stay in Bar Harbor until an agreed time [4 PM] and the final trip from Bar Harbor to the campground.
5:30 Bus leaves campground for "Seal Cove Auto Museum" in Seal Cove, ME.
6:00PM Cash bar. View wonderful "brass era" vehicles. This is an outstanding exhibit of early motor vehicles!
6:45-9:00PM Dinner is served. Tour museum after eating
9:00PM Bus ride back to "Narrows Too" campground in Trenton.
Saturday, September 18, 2010
8-9AM Breakfast in Narrows Too meeting room
9-10:00 AM Royale Coach Club business meeting Depart campground or stay on at group rate
If this is departure day for you, now might be the time to drive south via scenic "Rt. 1" along the magnificent Maine Coast
SPONSORS